Let's face it: creating a list of best music that includes only music released during that calendar year is way limiting. Like most...hell, all music fans, a lot of my best listening experiences in a given year come courtesy of albums that are already years, if not decades, old. The list below recognizes these albums.


2009: Return of the Gangsta Rap
If I were to summarize my musical adventures in 2009, I'd have to break it down to define it as the year of Anatolian rock, Gangsta rap, and J-rap. Early in the year, I accidentally stumbled upon a compilation called Love, Peace and Poetry, which compiled psychedelic music from various countries around the globe. During a trip to Amoeba Records in LA, I looked for albums in the series and ended up picking up the compilation from Turkey, and sheeeeeeeeeiitt (read: I was hooked). Listening to that album inspired me to learn more about the Anatolian rock movement as well as research some artists on the compilation. From that, I got my hands on albums by artists like Erkin Koray (right), Cem Karaca, and my favorite so far, Selda Bagcan. Many other Anatolian rock artists are a bit harder to come by, but those three are a good start for anyone who's interested.

Thinking about my childhood, I was more or less raised on Gangsta rap, but, being about 9-12 years old during it's heyday, I was probably a little too young to appreciate it (or to be listening to it in the first place, really). 2009 was the year where I revisited some childhood memories. Bone Thugs-N-Harmony was one of the biggest acts of my childhood, mainly because they were from my home state of Ohio and therefore given lots of airtime locally. Revisiting their albums provided me with some nice bits of nostalgia and overall satisfying listening experiences. I also took this time to get into a few artists I'd previously ignored, like Big L and Jay-Z. I'd never been much of a Jay-Z fan, but I'm sure that would be different had I heard Reasonable Doubt when it was first released.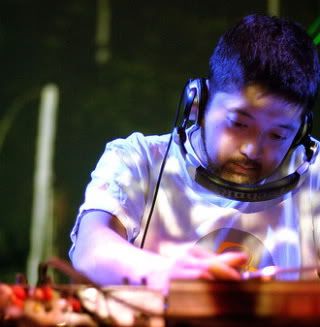 Moving to Japan in August got me interested in researching the country's music outside of the metal/noise scene or electronica scenes with which I was already somewhat familiar. Obviously there was J-pop, but I was hoping to look beyond the Arashi's in popular music. What I found out when I got here was....HOLY SHIT A TON OF PEOPLE LISTEN TO FUCKING ARASHI! Seriously, I mean, almost every goddamn person you ask....but anyway. BESIDES THAT, I found that there was a small but potent hip-hop scene going on. I'd never thought much of Japan being into hip-hop at all, but I've made some pretty solid discoveries in my research, including artists like Rhymester, Nujabes (left), and Zeebra. This is definitely a genre I'll continue to explore in the coming year.

So yeah, that about sums up 2009 musically for me. I'm sure 2010 will bring about more exciting new discoveries and all types of ill shit. Now, as promised, here's that list:


The Best 09 Albums I Heard In '09 That Were Not Released In '09



"Get Off The Bandwagon"
Listening to Strictly Business is like a hip-hop history lesson. Even hearing it for the first time, so much of it is familiar: that beat that would later be used in a hit song by a mainstream rapper you hate; that lyric that would later be paraphrased by an underground rapper you like. They all started from the same point and continue to borrow from it even now. As a result, Strictly Business still sounds fresh, having aged better than most any 20+ year old album should be allowed to.




"Three Shades"
Nomo are one of those bands that hipsters love because they play an obscure style of music that doesn't somehow sound like Radiohead or Tom Waits and thus makes the hipster's collection seem more rounded. Bonus points are awarded for liking Nomo since their style of funk and jazz is rooted in the traditional sounds of Africa: the second most hip region ever to like music from (beating out South America but still a ways behind the Middle East). But that's no knock against Nomo; they're pretty damn good, and Ghost Rock is filled with tight compositions with one memorable, killer brass section after another.




"永遠の記憶"
After some less than flattering introductions to the genre (Kumi Koda; m-flo), I was delighted to listen to The Rhyme Animal and discover that all Japanese hip-hop does not suck. Zeebra was one of the first serious Japanese rappers to emerge, and his homages to the American hip-hop that inspired him are obvious. But rather than copying the styles that inspired him, he manages to take that inspiration and make something uniquely Japanese, proving to doubters that J-rap can be taken seriously.




"Tatli Dillim" (by Cem Karaca)
"How do you even find out about stuff like this?" asked a friend. The same way I've always made obscure musical discoveries: by accident. What a happy accident it was that this album found it's way into my collection. One can never understand just how incomplete their music collection is without Turkish psych rock until they've heard Turkish psych rock; and then, just like that, life is a little more complete.




"All Black"
Big L was one of the greatest lyricists of all-time who wasted his immense talent on the mic trying to make lyrics like "They say real men won't hit a girl well I ain't real cuz I beat bitches up" sound badass. I know. I know. Terrible, right? Morally, I've never been so torn on liking a rapper. I understand that many gangsta rap acts went beyond dramatic romanticism of thug life and straight to portraying almost comically offensive, macabre lyrical imagery, but Big L often takes it to an absurd level. But, fuck dude, I'd be lying if I said I hadn't been giving this album spins all year long. Sometimes you just need to turn your critical side off and hear shit like "So don't try to test me cuz I can't stand tests / fuck around I'll introduce you to ya ancestors" without feeling bad about yourself.




"Brooklyn's Finest" (featuring Notorious B.I.G.)
It may be hard for some to imagine that there was ever a time when Jay-Z made great music, but Reasonable Doubt will forever be proof of such a seemingly unlikely period. With a swagger and a hunger that is long gone today, in 1996 Jay-Z delivered a classic debut that bridged the gap perfectly between the underground and mainstream; a feat that, arguably, hasn't been repeated since. Also, "Brooklyn's Finest" might just be the best rap collaboration ever.




"Meydan Sizindir"
I found Selda to be the most striking artist featured on the Turkish Psychedelic Music compilation (see above) and had to hear more of her. I wasn't disappointed. Make some emotional political protest music mixed with psych guitar riffs and saz (fuckin' saz!), and you've more or less got my attention. Yeah, so her voice is sometimes harsh and annoying, but don't let that distract you from the fact that this is awesome.




"Thuggish Ruggish Bone"
Life changed for the better when Creepin' On Ah Come Up made its way onto store shelves and into the hearts and minds of listeners everywhere. You might not be aware of exactly how the groups' brand of harmonized-rapid-fire-OMG-WTF-are-they-saying gangsta rap improved your life, but just be aware that, somehow, it did. Two skits to open the album, a pointless instrumental track to close it, and in between, five fucking classic tracks that the group would never quite surpass. And really, how could they? "Thuggish Ruggish Bone" is at least on par with any song ever made that can remotely be called a classic. Believe it.




"Dem Niggers Ain't Playing"
Things Gonna Get Greater is an uncomfortable listen. That's no accident. The Watts Prophets take an uncensored, no-holds-barred approach to discussing the racial issues of their generation, and couple it with the most intimate of musical art forms (spoken word poetry). Discomfort is the goal. It's the point; and goddamn does it make for one of the most intense listening experiences I've ever had.